Who am I?
Hi, I'm Cameron (aka Iffy), a stay at home mother to 4 beautiful children. My family is my life! I am not crafty by nature....but I am learning =D I will share my experiences with you(good & bad) with crafts, DIY, cooking, and life. I say what's on my mind, and remain honest, it's just who I am. Love it or leave it =D So follow me and see my progress as I document my journey, and If All Else Fails....at least you have gained a friend and gotten some great tips or maybe learned something new along the way!
View my complete profile

Sunday, April 24, 2011
Easter/Spring Wreath-redo
Pin It
Happy Easter guys!!
I've had 2 children down with strep this week.....no fun at all, because it's both my girls.
Sydney got it Tuesday & missed 3 days of school & took Michaela to the Dr yesterday and yep now she has it too. I'm crossing my fingers that Jackson & Landon don't get it.
So Easter will be celebrated with Amoxil-poor guys.
Here is my latest crafty decor piece-finished before the sickness crept in the house
I wanted to quickly post my Easter/Spring Wreath before Easter is gone.
I saw a wreath I fell in love with over at
the adventures of nick and jessica
but there was no tutorial to go along with it so here is what I did:
First I started with a winter wreath from Target I've had for 3-4 years and
I wanted to update it for the Spring.
an old wreath
plastic eggs
latex paint
foam brushes
paper plate
small paint brush
raffia
First I removed the berries & frosted sticks that were glued into the wreath.
Then I took 3 oops paint samples(.50 each woohoo!) that I had purchased from Home Depot.
There was brown, blueish gray, & a cream color paint.
Then I repeated that process again, touching up any spots that had dried to the plate & peeled away.
At this point I thought all of the paint would end up peeling off and revealing the colored, plastic eggs beneath.
I decided to keep going and just see how things turned out. I suppose if I had more colors of spray paint on hand I would've tried that as it would have eliminated the peeling of the latex paint.
Then I was ready for my accents,
all I did was dip the narrow, wood end of my thin paint brush into an opposite color and either put dots or
just swept back & forth over the egg, depending on the look I wanted.
I left a few solid, & some I even went back and put some more paint of the 3rd color in the same manner.
I really love how these were looking!
Once I achieved the look I imagined with the raffia, it was time to add some eggs!
I carefully opened the eggs and placed a piece of raffia at the hinge and snapped it back tightly.
I thought the opening of the wreath was a bit too open & bare, so I added a cluster of eggs.
I did this by attaching 1 egg to the raffia, as described above,
making sure it was in the center of the piece of raffia.
I took the extra length of the raffia (after I tied each egg to the wreath)
and weaved that through the wreath as well.
Finally I took a bunch of raffia and just tied a bow at the bottom of the wreath
and
TaDa....
I was going to add some purple silk flowers but didn't have any on hand, then thought a purple bow but since I have not learned how to make a bow from ribbon yet
I opted for the raffia.
Very earthy and a completely different look from what I started with.
Before:
Do you like it?
~Iffy~
Partying with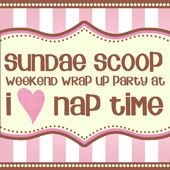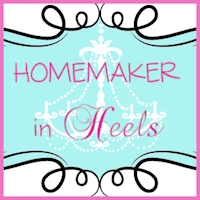 Posted by

~Iffy~ @ StayAtHomeNation
at 5:05 PM