Who am I?
Hi, I'm Cameron (aka Iffy), a stay at home mother to 4 beautiful children. My family is my life! I am not crafty by nature....but I am learning =D I will share my experiences with you(good & bad) with crafts, DIY, cooking, and life. I say what's on my mind, and remain honest, it's just who I am. Love it or leave it =D So follow me and see my progress as I document my journey, and If All Else Fails....at least you have gained a friend and gotten some great tips or maybe learned something new along the way!
View my complete profile

Thursday, June 23, 2011
Crafting Kiddies Summer #3~ Cool Corner Bookmarks & My Favorite Things Party #4
Pin It
I am all about having fun with my kiddies, but everyone needs some quiet time right?
And what's better than making your very own corner bookmarks to encourage reading?
I first saw these over at
I Could Make That
and thought these are so cute & the kids would love this.
So we made some. Perfect for the summer reading they are going to be doing......soon.
They are so great because they can be personalized to whatever your child likes.
(color, print, animal, team colors-get creative)
We added all sorts of crazy teeth & I think they turned out pretty cute.
So be sure to check out Tally's detailed tutorial
here
So now I would like to highlight a few of My Favorite Things from my party last week
(each Friday I will feature my Favorite 3 from the week prior)
Made on Fifth Street
has given me the courage to attempt quilting
with this amazing quilt made of scraps
and Jami over at
freckled laundry
has many beautiful Lavender items
on her blog like this Lavender Window
And last but certainly not least is
this adorable baby book over at
SewHappiness
Thank you for all your beautiful, crafty, creative, & yummy posts!
If you've been featured please grab my button (below or at the top of my sidebar) & post it proudly because you are in the
Stay At Home Nation Spotlight
And Now it's time for another My Favorite Things Party so be sure to link up!
A new party will begin every Friday
(& run until Thursday night)
1-Show off your favorites(crafts, recipes, DIY, anything you have posted on your blog that you love.
& Link up (2 entries allowed)
2- Paste my button (located above or at the top of my sidebar) into your entry post(Mandatory)
3-Follow Me if you like my blog-not required but it would be nice =D
Post a comment below letting me know & I will follow you back!
4-Leave me a quick comment just to say hi so I know who's partying with me this week
(again not required, I just like to get to know you guys)
5-Check out at least 1 other entry & comment on their post & let them know you saw them at my party.
Entries will list in reverse order-giving everyone a chance to shine at #1.
Much love
~Iffy~
Linking Up With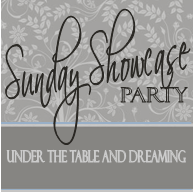 Posted by

~Iffy~ @ StayAtHomeNation
at 11:14 PM