Who am I?
Hi, I'm Cameron (aka Iffy), a stay at home mother to 4 beautiful children. My family is my life! I am not crafty by nature....but I am learning =D I will share my experiences with you(good & bad) with crafts, DIY, cooking, and life. I say what's on my mind, and remain honest, it's just who I am. Love it or leave it =D So follow me and see my progress as I document my journey, and If All Else Fails....at least you have gained a friend and gotten some great tips or maybe learned something new along the way!
View my complete profile

Monday, May 27, 2013
Revolt Blogger ~ Week 12 ~ Bulu Box Review & Revolt Fitness Around Holidays, BBQs, & Birthdays -How to Stay On Track
Pin It
I wanted to share with you today a new product, well a new to me product called the BuluBox. It arrives in a cheery orange box and comes with premium samples of fitness or weight loss products depending on which box you choose.
For just $10 a month you get an assortment of items to try out. Every month you get a new assortment of items. Here's a glimpse of what I received for this month.
I love that one of the items is a full size bottle, and it's a product that I'm excited to try!
It comes with a description card about what products you have received and what they are for, which is great since most are products you may not have even heard of prior to receiving your Bulu Box.
I typically don't find that a chew tastes like what it says, or even tastes good at all for that matter. However this Beauty Burst tasted exactly like mint chocolate and was quite yummy.
It is a collagen chew so it's supposed to help with hair, skin, and nails. This is something I could actually see taking daily.
If you would like to try a Bulu Box for yourself, then you can go here and sign up for subscription
You can enter the Fit Into Summer Giveaway which ends June 10. It's valued at over $1000 and there will be three winners chosen at random. To find out more details and to enter to win go HERE.
You might wonder how to stay on track with your diet when the holidays roll around, a barbecue, or birthday parties and I'm going to share with you how to make that possible with the Revolt Fitness program. You see, Nichole Huntsman made the Revolt program so that anyone can do it. It is totally customizable and can fit into the busiest of schedules.
During the holidays or celebration graduation barbecue's birthday parties (the list goes on) is when most people fall off the fitness wagon. It's easy to indulge or overindulge at certain
get-to-gethers & celebrations as people feel it is justified.
With the Revolt fitness program however you don't have to feel like you fell off the fitness wagon. Every week you get a "cheat" day which entitles you to eat whatever you've been craving or missing during your time on the diet. Now you don't want to eat until you are sick, but by all means go ahead have that cookie, have pizza if that's what you want, just don't stuff yourself.
The way you make the revolt program work for you is to simply schedule your cheat days on whatever holiday or occasion you need to celebrate. I think the cheat day is the best part of the program because it really helps you to get what you have been craving during the week and makes that next week easier to stick to. Eventually your cheat days will consist of healthy but not strict diet meals or food items. Say you wanted a smoothie in the morning or a mango for a snack, you can on your "off" or "cheat" day. It's considered cheating but your body will feel better for it in the long run if you try to stay healthy on your cheat days, especially when you avoid processed foods.
That's how Revolt can help you stay on track with your diet around special occasions.
To join the next Revolt Uprising or to find out more go HERE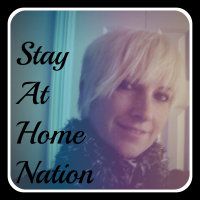 "/>

Posted by

~Iffy~ @ StayAtHomeNation
at 2:08 PM